Parodies, references explanations for Kaguya-sama wa Kokurasetai? Tensai-tachi no Ren`ai Zunousen / Kaguya-sama: Love Is War 2 episode 9.
Timestamps are approximate
Parodies/references
2:30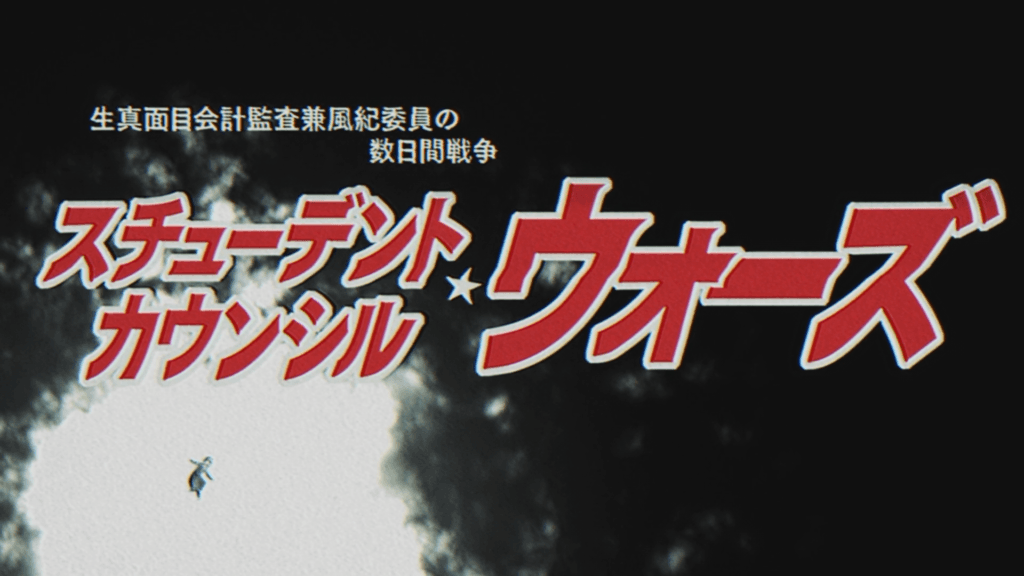 The sequence is a parody of the opening for the 1984 Japanese TV series School Wars ~Nakimushi-sensei no 7-nen Sensou~.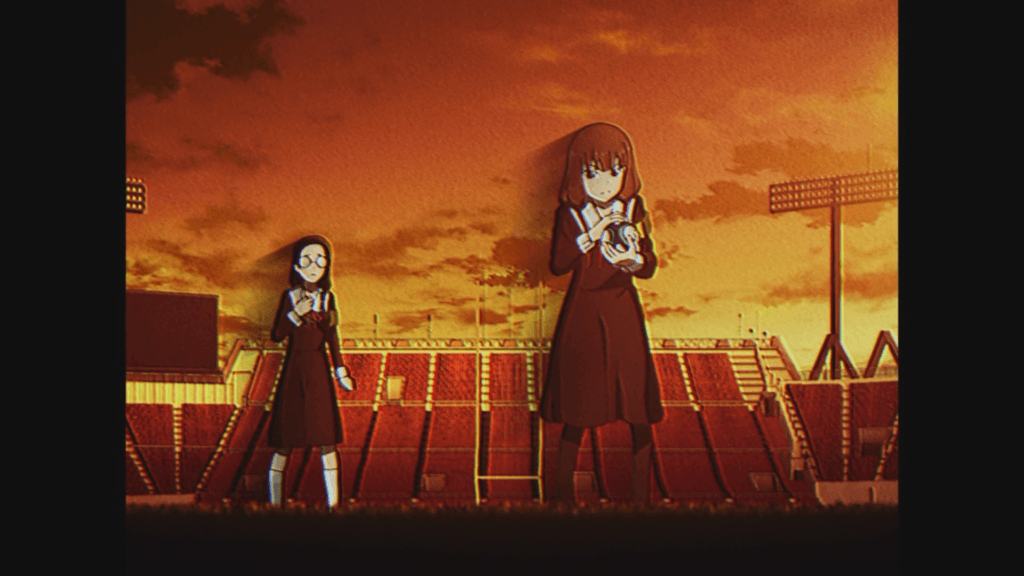 The rugby part at 8:48 is also referencing School Wars with rugby being a central part of the story.
2:53 Shinomiya Kaguya in Iino Miko's fantasy says "kusatta mikan wa hayame ni shobunsuru ni kagirimasu" (literally "rotten mikans (Citrus unshiu) are best disposed of early on", and translated as "We have to get rid of the rotten apples as soon as possible"). It is possibly a reference to the Japanese TV series San-nen B-gumi Kinpachi-sensei / Mr. Kinpachi in Class 3B where delinquents were seen as "rotten mikans" inside a box with other students which would cause nearby mikans (other students) to also become rotten and therefore should be disposed of.
5:04
The coloured text appearing on the background effect is similar to the next episode previews for the anime Higurashi no Naku Koro ni / Higurashi When They Cry while the overlapping voices is similar to the next episode previews of the anime Angel Beats!
5:24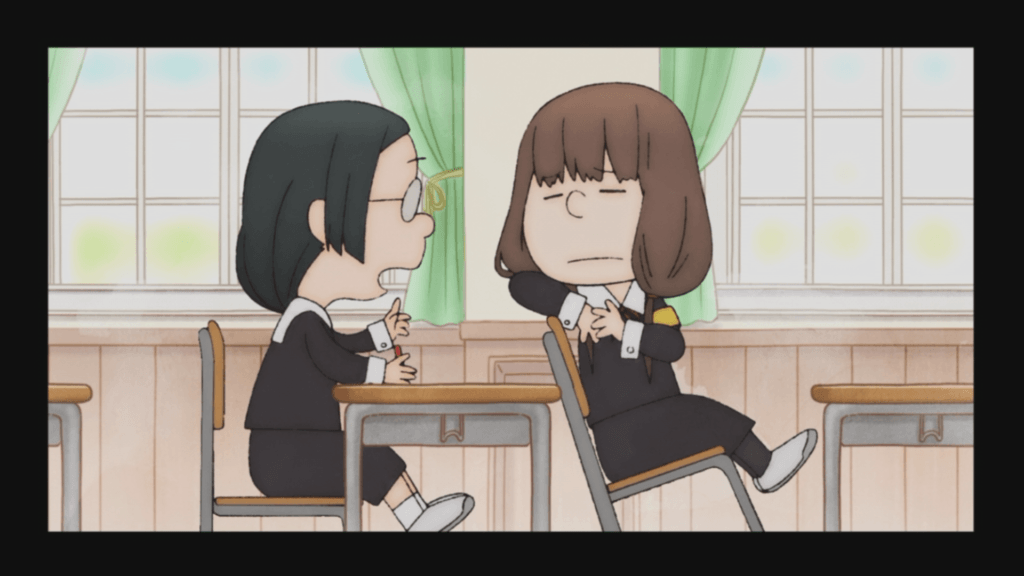 Parody of the comic strip series Peanuts
6:02
The title "FIFTY SHAPE OF LOVE" is a parody of the novel title "FIFTY SHADES OF GRAY" and the cover design is also a parody of the original novel's cover.
11:00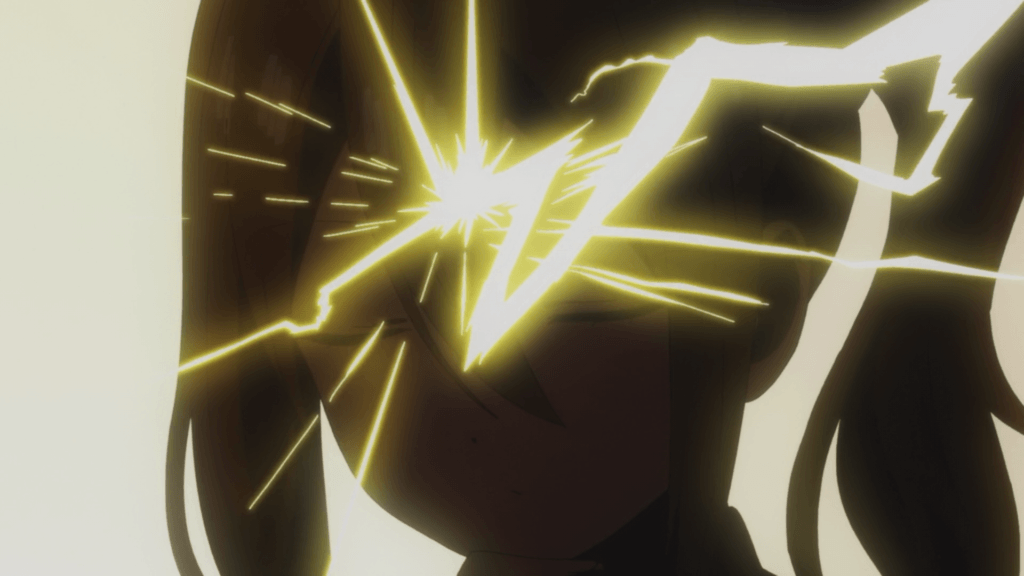 The newtype detection ability from the anime Kidou Senshi Gundam / Mobile Suit Gundam and parody of its sound effect which sounds similar.
11:09
The routine / ritual of baseball player Suzuki Ichirou
11:11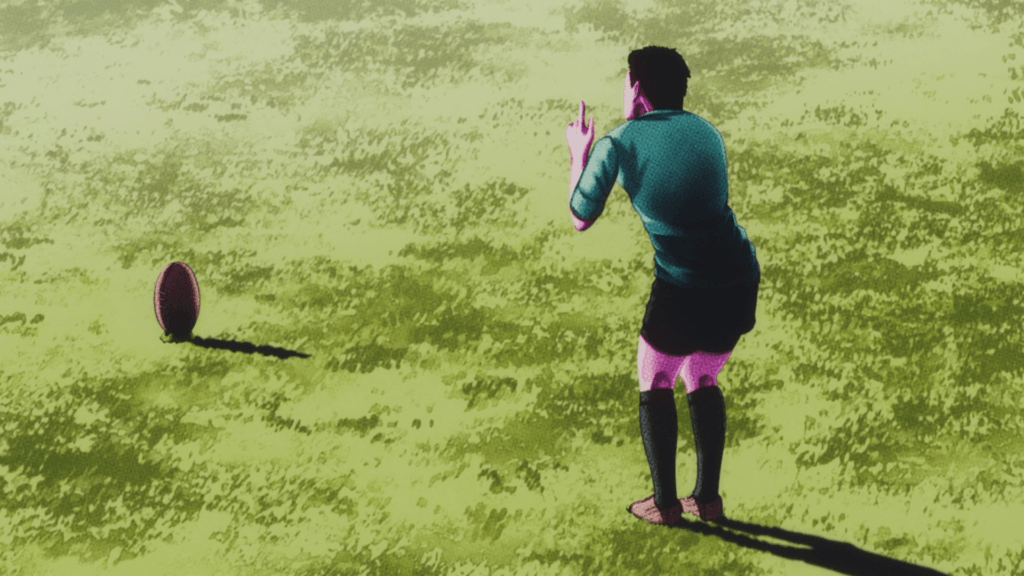 The routine / ritual of rugby player Goroumaru Ayumu
11:29
The music song name and singer name are parodies of the song Vogue and singer Madonna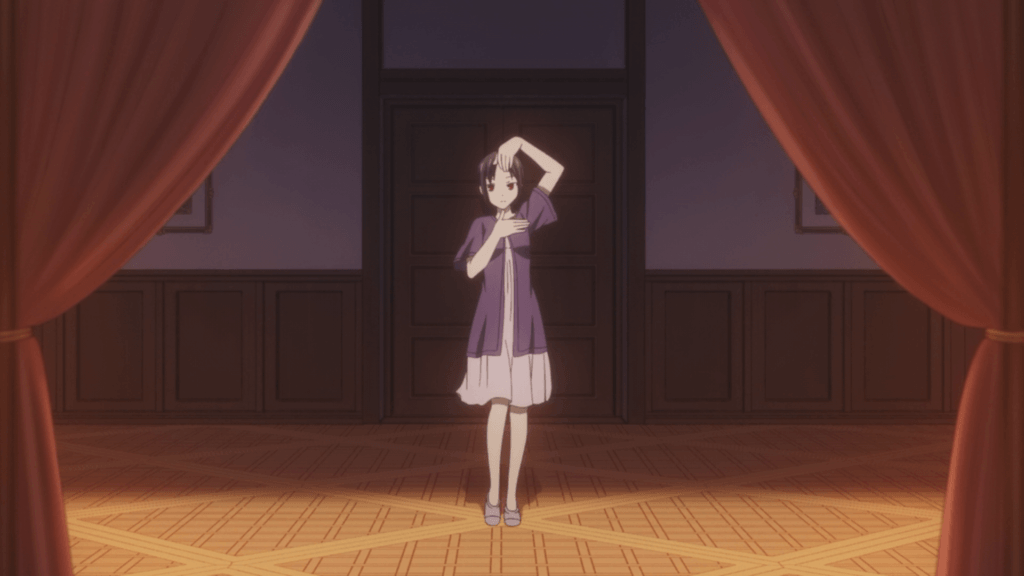 Kaguya does vogue dance which was used in the music video for the song Vogue.
14:03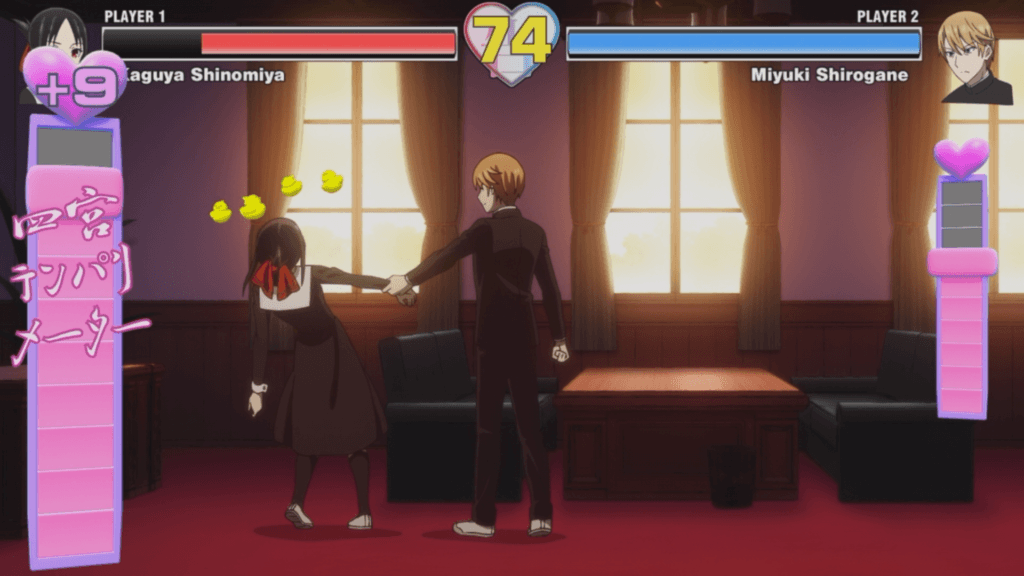 Kaguya is affected by the stun/dizzy effect which originally appeared in the game Street Fighter II
15:35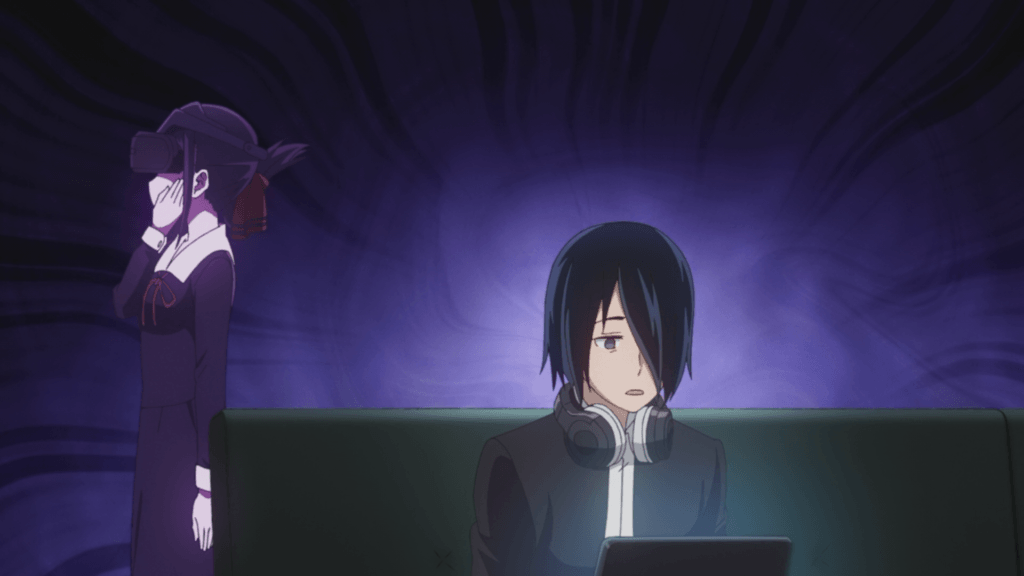 Kaguya is wearing probably a parody of the PlayStation VR headset
18:28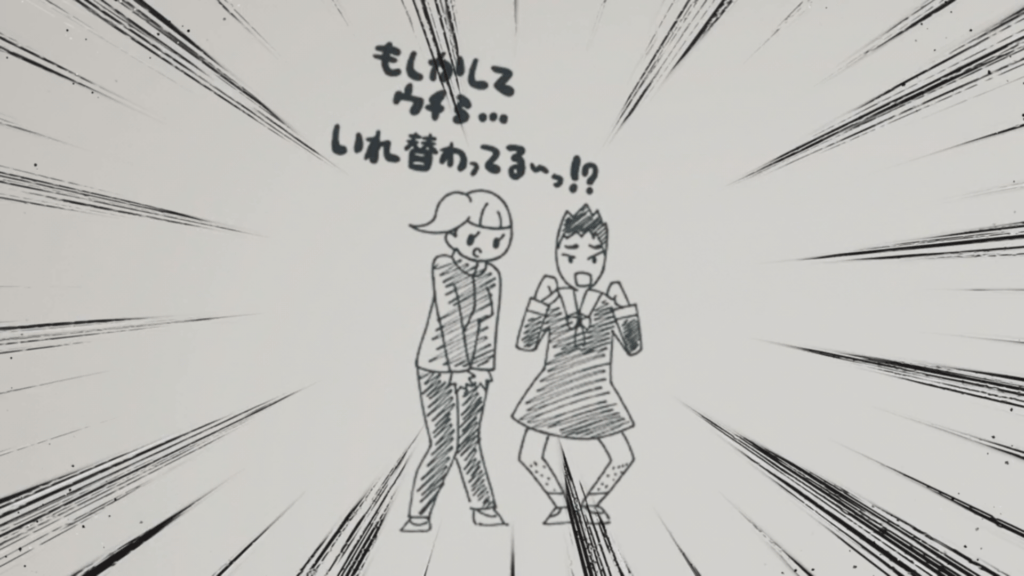 On the whiteboard is "moshikashite uchira… irekawatteru~!?" (roughly "could it be we are… swapped!?") which is a parody of the longer lines said by the 2 main characters in the anime film Kimi no Na wa. / Your Name.
20:58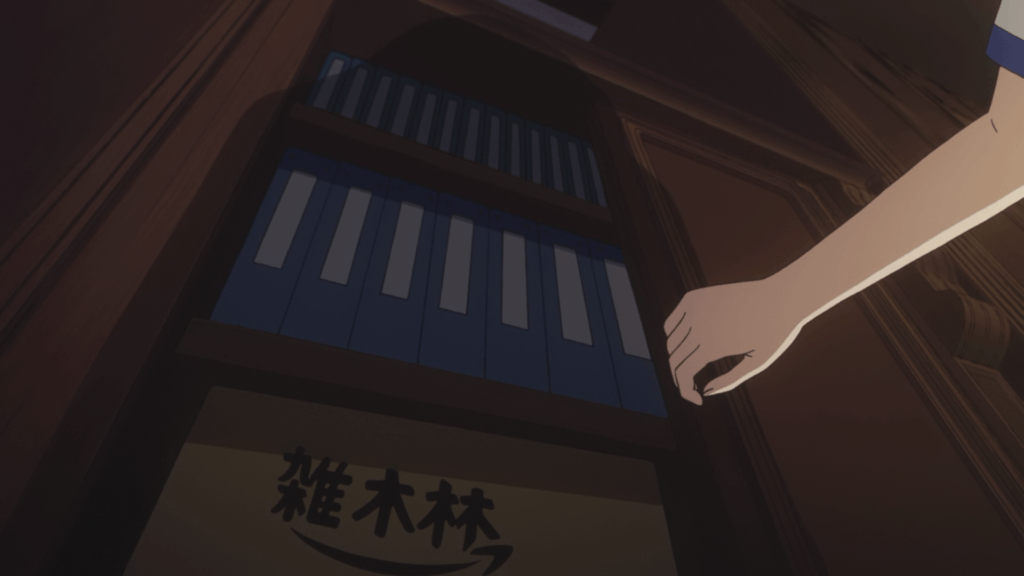 Parody of Amazon and its logo. "雑木林" refers to "thicket" which is probably a parody of "Amazon rainforest".
22:31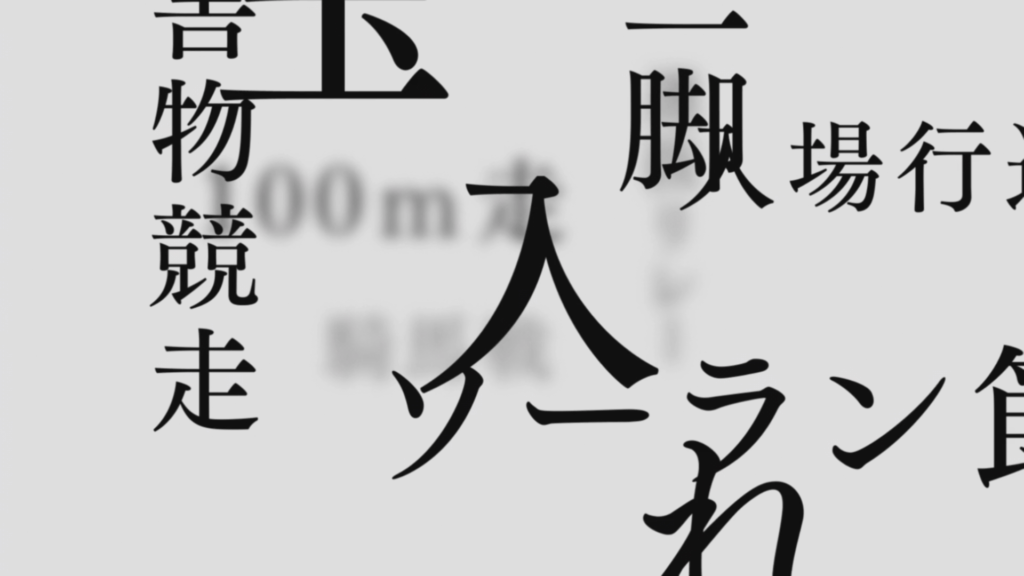 The black text appearing on the white background is a parody of the next episode previews for the TV version of the anime Angel Beats! (in the disk release version, preview video of the next episodes are used instead)
 Screenshot credits: ©赤坂アカ/集英社・かぐや様は告らせたい製作委員会
3628
0
0
cookie-check
Kaguya-sama wa Kokurasetai? Tensai-tachi no Ren`ai Zunousen episode 9 references, parodies