Explanation for parodies, references, translation notes in Tsugumomo episode 6.
Timestamps are approximate
References/parodies
0:54
In the explanation, the narrator says "gyaruge […] wa jinsei de aru" (literally "galge is life"). It is possibly a reference to the phrase about the visual novel Clannad, "Clannad wa jinsei" (literally "Clannad is life"), which is the result of someone's reply to the question "if [Clannad] is not an Eroge, then what is it?" (that reply being "jinsei… kana, meaning "life… perhaps?").
3:54
The couple on the far left are doing the "I'm flying" action scene from the film Titanic done by the 2 lead characters Jack Dawson and Rose DeWitt Bukater.
4:31
The time limit for the game choice options with the border filling up is from the first Sakura Taisen / Sakura Wars game.
4:57 The sound effect at the time is the sound effect which occurs in the Sakura Taisen / Sakura Wars game when the player increases their affection level with a character.
5:09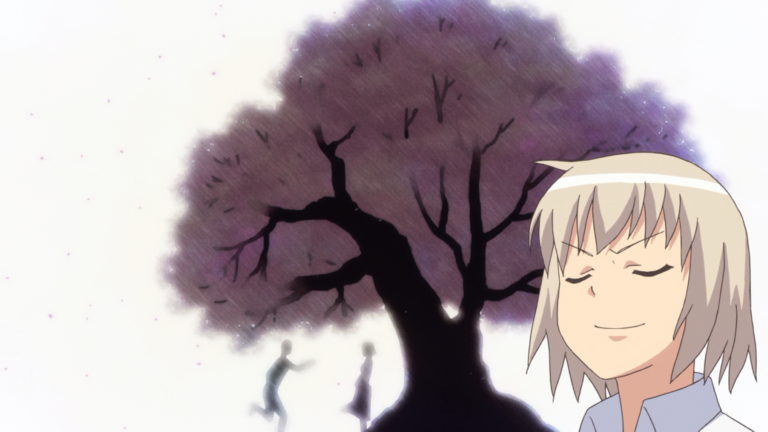 The successfully confessing under the legendary sakura / cherry blossom tree leading to a fulfilled love is from the game Tokimeki Memorial.
8:39
The name of the game, "PureHeart", is a parody of the game title To Heart, also a visual novel. The poster shown is also a parody of the cover for the To Heart game. "Jun bato" (literally, "pure dove", translated as "P.H. One") is a parody of the nickname, "TouHato" (spelt "東鳩", meaning "East Dove"), for the game To Heart.
14:40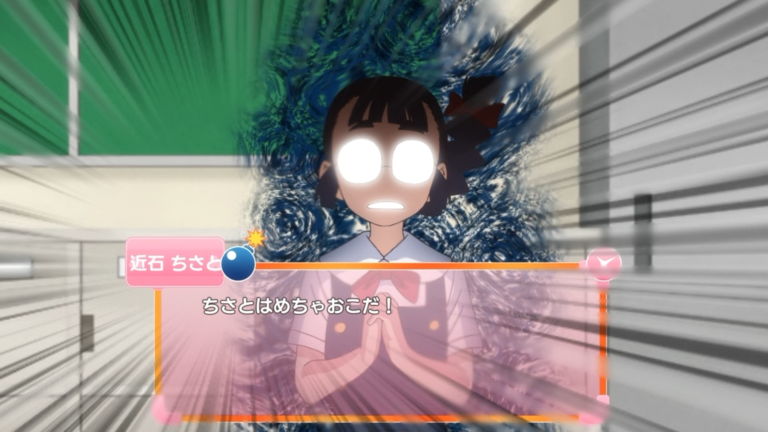 The game mechanic of dealing with the "bomb" before it explodes is from the game Tokimeki Memorial.
21:15
The Eurasian tree sparrows chirping in the morning is a technique to imply that sex occurred the previous night. Usually there are much fewer sparrows than shown…
Translation-related
4:06
"dokan" is the onomatopoeia for certain sounds of things colliding. Also shown in the image is an earthen pipe which is "dokan" in Japanese.
4:52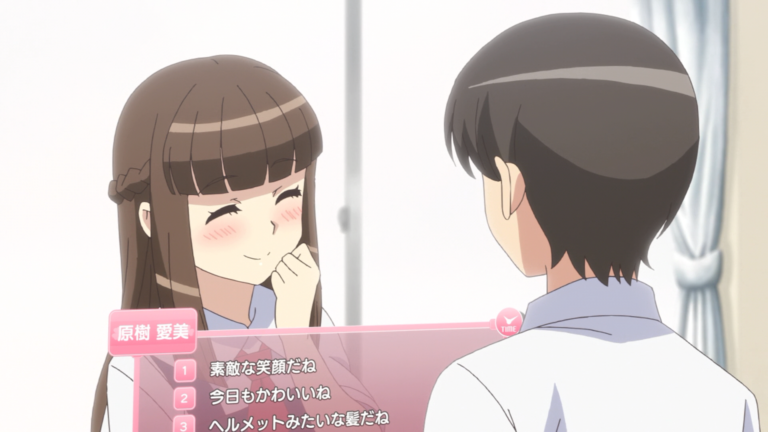 Untranslated text:
(Unsure how name is read, given name is probably "Ami" or "Aimi")
A wonderful smile, aye?
(You're) cute today, too, aye?
(You're) hair is like a helmet, aye?
4:54
The text box is the girl character's line. It says "Aren't (you) a boring man. Come 3 days ago."
"Owowowo… I hit my butt"
(You've) tripped quite flashily
If it comes this far, it can even be thought of as art
1. Would Kasa-nee like to do it together too?
2. (I) can see it! An incredible aura…
3. This is different! (My) body just (did it) by itself!!
4. Free input
1. It's a drill, right?!
2. This is a real robo girl!!
3. For the time being, let's talk above ground.
Free input
9:31
The game text was translated as "human x spirit starting today you are my servant". More accurately, it should be "Non-human simulation?! ~From today, you are love's servant~"
Screenshot credits: ©浜田よしかづ/双葉社・「継つぐもも」製作委員会
3291
0
0
cookie-check
Tsugumomo episode 6 references, parodies, notes